The GULF NEWS wrote about Vanad
GULF NEWS - the most prestigious and most widely read national newspaper in the United Arab Emirates with 88,000 copies - prepared a special edition in cooperation with the Czech Embassy in Abu Dhabi to celebrate the growing partnership between the Czech Republic and the UAE.
A special issue about the Czech Republic aims to familiarize the general public with the latest developments in business and technology cooperation between the two countries and to introduce Czech companies from various sectors such as engineering, construction and design.
The Czech Republic presents itself as a recognized partner with a long tradition in high technology through a special edition. We are pleased that the Czech Embassy has recommended our company as a reputable and already established business partner for the interview with the editor of this prestigious newspaper.
Here we have prepared for you an article that came out of the interview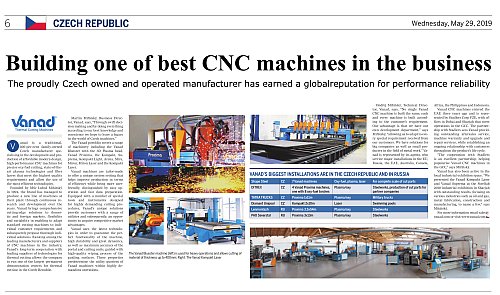 You can find more photos on Vanad Facebook.
If interested, you can also book a visit to our showroom.

Visiting the Vanad Thermal Cutting Centre